Student Researcher Stories: 3Qs with Melissa Stok '24
"Any student who is interested in sustainability-related projects on campus should take the opportunity to explore those topics either through working with MITOS or getting engaged in other ways."
---
MITOS's Student Researchers develop meaningful work to advance a sustainable campus at MIT and to build their professional experience in institutional transformation. Read Melissa's response to three questions about her experience.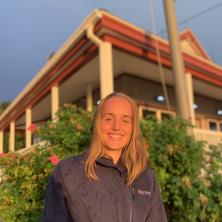 Melissa Stok
'24 Design out Waste Researcher
Melissa is a sophomore at MIT studying materials science and engineering and electrical engineering and computer science. Her interests lie at the intersection of the two areas, and she hopes to work in a sustainability-oriented field. During spring 2021, she began working with MITOS on a project to implement food waste collection in Site 4, a new graduate residence. Now, she is working on waste pilots around campus to increase food waste collection, reduce recycling contamination, and increase the amount of material available for reprocessing. Outside of these activities, she enjoys running, playing soccer, skiing, and cooking.
What was your favorite project/story/assignment/ event that you worked (or working on now) on in your time as a Student Fellow? Why?
Throughout my time as the MITOS "Design out Waste" Student Researcher, I have had the opportunity to work on many projects that were extremely interesting and exciting. It began during spring 2021 when I worked on a project in Site 4, the new graduate dorm, and have now had the opportunity to work on other projects in NW23, New House, Random Hall, and the School of Architecture and Planning with regards to waste audits and signage.. Throughout all of this work, my favorite project has been working in New House during fall 2021, where I conducted a waste experiment to determine the effect of adding standardized signs—created working with Recycle Across America—to all the waste bins in the dorm. I really enjoyed this project because I had the opportunity to collaborate with so many other people and see this project through until the end. I collaborated directly with Recycle Across America to customize and order the signs, worked with the Waste Watchers team to get students to monitor the waste bins, and collected data on waste volumes and contamination levels to analyze with Erez Yoeli, a research scientist at the Sloan School of Management, and Eli Kramer, a UROP who works with him. We were able to collect seven weeks of data and carry out a randomized roll out of signage to determine whether or not the signs had an impact on waste stream contamination levels. From this experience, I learned how to work with many teams simultaneously and draw conclusions that have influenced my work since then.
In what ways has your experience as a MITOS Student Fellow influenced your career at MIT and/or beyond?
The skills that I developed as a MITOS Student Researcher and the passions that I have had the opportunity to pursue and investigate has had a substantial impact on my time at MIT and will continue to influence me throughout the rest of my life. Prior to beginning this work, I was very interested in sustainability, but did not have a clear view of how I could make a difference at MIT. What I have discovered as a researcher is that there is so much work to be done in the space of waste systems and better management of the waste that we produce, both from a logistical viewpoint and a materials standpoint. I hope to be able to continue to work on these topics through my work with MITOS and also conduct research to develop more sustainable materials to replace plastics and other items that end up in our landfills.
In addition to this, the interpersonal skills that I have developed by collaborating with others and organizing projects are invaluable to me and will stick with me throughout the rest of my life. I have learned so much from my supervisors and from the various people and groups that I have worked with around campus.

What advice would you give to other students to make the most out of the MITOS Student Fellowships?
The best part of my experience as a student researcher is that I am able to pursue projects that interest me, and carry them in a direction that is important to me and that I feel is the best for their evolution. I think that any student who is interested in sustainability-related projects on campus should take the opportunity to explore those topics either through working with MITOS or getting engaged in other ways. In order to address the sustainability challenges that our world faces, we need many people to take action and to be passionate about the work that they do!