Reflecting on Living Climate Futures and Justice-centered Sustainability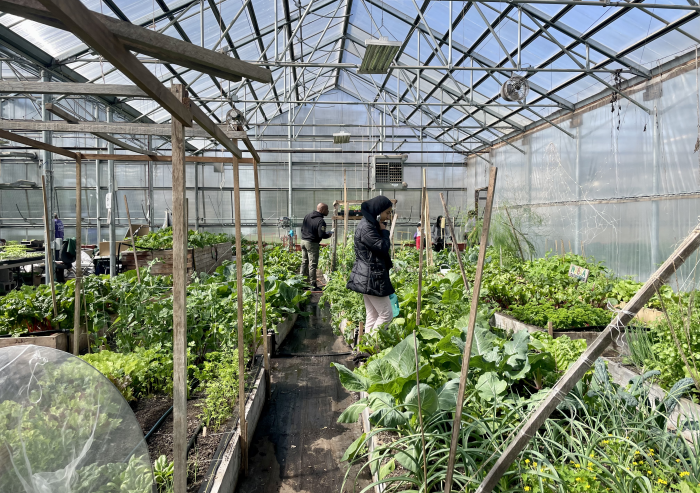 MIT students, staff, and faculty learn & volunteer at the Food Project (Photo Credit: Susy Jones, MITOS)
---
Our goal at MITOS is to leverage the campus as a testbed for just, equitable, and scalable solutions to climate change. Toward this goal, we have been working to deepen our knowledge and collaboration on environmental justice at the Office. When the opportunity arose to partner with MIT Anthropology, History, Program on Science, Technology, and Society (STS), and Project Indigenous on their ambitious Living Climate Futures Symposium to coincide with Earth Day this April, we were eager to join. Christine Walley, professor of anthropology at MIT noted in a recap of the event: 
 "We wanted to stage an event where the emphasis was on bringing different groups together — environmental justice as well as Indigenous-oriented organizations — and see what emerged organically from these conversations and interactions in ways that would be meaningful to them moving forward…Living Climate Futures created a space for those interactions to happen."
Collaborating with urban farmers, Indigenous fishermen, youth leaders, and others from across the country added critical perspectives to the climate action planning work right here at MIT. 
To develop a panel about urban agriculture for the symposium, I worked with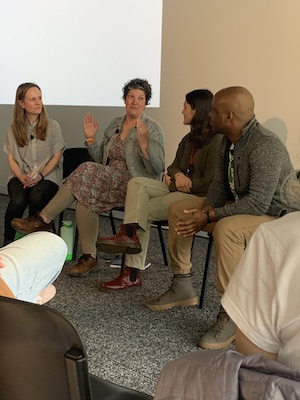 Walt Bonham and Amanda Stanfield from the Richland Gro-Op in Mansfield, Ohio, and Bianca Bowman from GreenRoots in Chelsea, Mass. Their work to bring farm businesses and gardens to communities highlighted the values we can embed here at MIT – whether it's creating green "third spaces" that inspire hope and creativity, partnering with small and diverse growers to stock our campus kitchens, connecting to culture through food, or recognizing the injustices in cities that make accessing affordable food so difficult. 
As part of the Symposium's Saturday morning experiential tours, I helped organize a trip to the Food Project in Boston, where the greenhouse filled with bright chard felt like an oasis in the April chill. We helped prep the fields for planting and learned about the power of growing food in the middle of the city. I noticed faculty, staff, our farmer friends from Ohio, and undergrad and grad students trading stories as they shoveled compost together.
Reflecting on the symposium, it's clear that justice is a critical goal in a food system that was largely built on stolen land and stolen labor. I will carry these perspectives into the food targets we are discussing as part of MIT's climate action plan.
As our Office seeks to embed environmental justice principles across our portfolio, we look forward to building on these conversations in the months to come. We continue to invite the MIT community to dig into the question: What does an environmentally just campus look and feel like? And to think about how we can each play a role. 
Take a look at an initial campus environmental justice framework. What is missing from this vision? What research opportunities and partnership opportunities exist? We welcome your comments and suggestions.