MITOS
Navigating the new food landscape, while supporting our local communities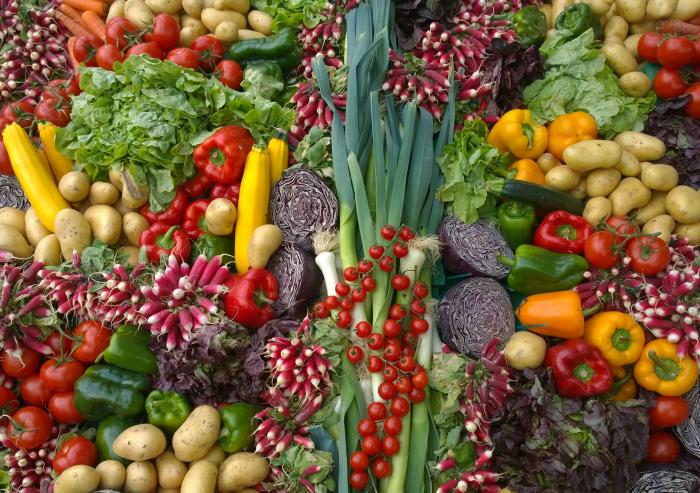 ---
Navigating the food landscape during the COVID-19 pandemic can be filled with stress, joy, and new opportunities for learning about what makes our food systems sustainable and resilient. Whether it's finding groceries, cooking new recipes, or experiencing deep gratitude for our frontline workers – we are thinking about food a lot these days.
For many of us, our kitchens have become a creative and comforting space during the pandemic. Interest in home gardening is on the rise, as we consider the importance of hyper local food sources and delight in watching nature continue to bloom around us. Food insecurity is also increasing, as unemployment surges. And many small businesses and farmers are struggling to stay afloat in this changing landscape. Supporting our local communities feels more important now than ever.
In the Office of Sustainability, we have started many food conversations on campus with the vision statement: "Imagine an MIT where everyone has access to healthy, affordable, and culturally meaningful food in an environment designed for social connection, sustainability, and innovation." These are the values we think about when we frame food systems work – and we hope to begin to explore these with you during this challenging time, while providing some helpful tips and resources we've found along the way. This post focuses on the food landscape beyond the walls of the MIT campus, as many of us are working and studying from home.
This is the start of a conversation around the changing landscape of food in these times. Please send us your thoughts, questions, favorite restaurants, and recipes, as we continue to have these conversations with the MIT community over the coming months.

How to support local restaurants and food businesses
The restaurant industry is facing huge challenges: jobs have been lost, futures are uncertain, and COVID-19 is amplifying the inequities already facing restaurants owned by immigrants and people of color.
What we can do:
A recent post MIT Medical let us know that we are unlikely to become sick from takeout food if we minimize contact with people as best we can. Whether it's through takeout or a donation, we can continue to support our favorite businesses. (I am still dreaming about the brown sugar plantains I had from Daryl's Corner Bar last week).
A great list compiled by Edible Boston provides options for delivery, curbside pickup, and shipping from businesses around Massachusetts, "How You Can Support Local Businesses During the COVID-19 Pandemic and Stay Safe Yourself."

You can also take a look at a list compiled by Eater Boston about how to support your favorite Boston-area restaurants via donations.
How to support local farmers
The pandemic has put the food system's supply chains in the spotlight – as we've read reports of dairy farmers dumping milk and the worker safety challenges of meat processing plants. Many small farmers in our region are struggling to sell their crops, without university salad bars (think about all the salad bars just in Cambridge and Boston!), restaurants, and large public events to buy from them.
What we can do:
Despite hardship, local innovation is sprouting up everywhere, and there are lots of ways we can continue to support our farmers through this tough time. Farmers are setting up new systems for home delivery, online ordering, and collaborative models that aggregate products from small producers and distribute them together, like Mass Food Delivery.
Signing up for a CSA (community supported agriculture) which provide a weekly box of farm-fresh veggies can also be a great option. My CSA from Farmer Dave's will provide a hefty box of vegetables weekly for 20 weeks from June-October for $27.50/week. And if a weekly box is too much, places like the Boston Public Market and the new Worcester Public Market are offering new options for pickups and deliveries, as are many other local farms.
The State of Massachusetts also has a helpful list of how consumers can purchase Mass-grown food, including CSAs and new delivery options. Take a look here.
How to help ensure food security
Demand for food assistance is rising, and our food banks are experiencing shortages of both donated food and volunteer workers. But there many resources available for those in need, and those looking to support our neighbors. The creative commitment to ensure access to fresh, healthy food is strong – see About Fresh and Common Table as shining examples, both supported by the Boston Resiliency Fund (which you can also donate to).
What we can do:
If you need food assistance or looking to make donation, here is a list of resources to get started.
How are you supporting local food businesses? Share your favorite takeout spots, CSAs, or local farmer or how you're supporting the local food bank or micro-pantry. Email us at sustainableMIT@mit.edu We'll share a selection of the MIT community's favorites in an upcoming post.