Behind the Climate Action Plan: Janine Helwig, Director of Utilities
MIT's operational staff are key partners to MITOS and in reaching MIT's climate goals. To highlight this, we will be featuring the contributions of one staff member each issue.
---
What is a typical day like for you at (virtual) MIT?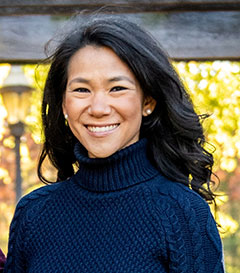 Janine: It has been interesting starting in a completely virtual environment as I spend most of my days on Zoom calls!  Although, I have to admit that Zoom has helped me learn faces and names much faster than the traditional method of meeting people in the office and memorizing names.  On any given day, I serve on multiple cross-functional campus teams to address everything from the operation of the Central Utilities Plant (CUP), the design and construction of utility infrastructure projects, maintenance of critical utility distribution systems, forecasting of the utility portfolio budget, execution of energy conservation efforts, and advising on capital renewal needs.  Collaboration with key partners across campus allows Campus Services and Stewardship to collectively achieve our mission and goals that support the advancement of education and research at MIT.
What are some ways your work and your team support MIT's climate action plan to reduce on campus emissions and utilize the campus as a test bed for change?
Janine: The recently upgraded CUP, which utilizes cogeneration technology, is currently in its final testing and commissioning stages and our team is developing the business and operating rule framework that are centered around the intersection of carbon reduction, resiliency, and economics.  The goal is to optimize operating scenarios based on forecasted campus electrical and thermal loads, while balancing an optimal carbon rate for the CUP compared to the grid's carbon rate so that we operate the CUP when we know we will be "cleaner" than the grid.  Additionally, along with our key partners, the team has been evaluating the strategic potential of electrification as a means of decarbonizing our campus and to meet the goals of MIT's climate action plan.  The best part of being at an institution like MIT is that we can leverage the academic community to evaluate and pilot emerging technologies and by utilizing the campus as a test bed to apply unique solutions to complex problems.
What's one thing you wish people knew about Utilities and how it keeps MIT running?
Janine: Utilities is a 24/7 operation and we have a dedicated team of operations staff that ensures the CUP is meeting the campus electric, steam, and chilled water demands.  Although the upgraded CUP is fueled primarily by natural gas, cogeneration is incredibly efficient compared to traditional power plants, and helps contribute to MIT's net reduction of greenhouse gas emissions.  Not only will our new plant operate more efficiently and contribute to MIT's decarbonization goals, the CUP will also help the campus become more independent from the grid and increase the resiliency of the campus.