Access MIT
Your commute counts. Switch it up.
Under the leadership of the MIT Committee for Transportation and Parking, the newly launched Access MIT program is an initiative to create a variety of affordable, low-carbon transportation options and change the way the MIT community thinks about commuting. Read the MIT News story announcing the program here.
Over the past decade, the MIT Transit Lab, in collaboration with MIT's Parking and Transportation Office, has focused on how faculty, staff, students, and visitors travel to and from MIT. Supported by their research and a partnership with the Office of Sustainability, MIT has set out to reduce parking demand on campus with the launch of a new program, which combines pay-per-day parking for most parkers with free access to MBTA subway and local bus.
Additional benefits include increased subsidies for parking at MBTA stations and commuter rail tickets. In 2017, the team launched a public awareness campaign to accompany the new benefits and reframe the commuting experience.
---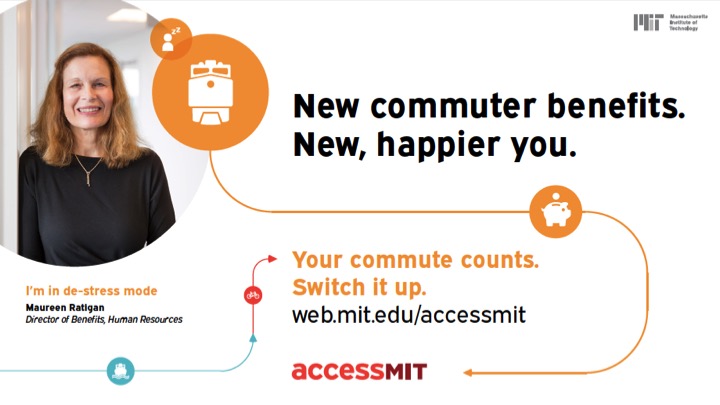 An example of the commuter campaign materials
---
Access MIT represents the Institute's progressive vision for redefining the culture of commuting and encouraging sustainable transportation practices. These programs will continue to explore new ways to provide commuters with the flexibility to choose, day-to-day, how they would like to commute, from carpooling in the morning to "pop up" mass transit in the evening.
Access MIT program elements include:
Free, unrestricted use of the MBTA subway and local bus systems for benefits-eligible Cambridge campus MIT faculty, staff, and postdocs

A 60% commuter rail subsidy

A 50% subsidy for parking at MBTA stations, up to $100 per month

A shift from annual to daily pay-per-day parking plans at MIT gated lots

A commuter dashboard for MIT employees that tracks your commute, helps plan trips, and match carpoolers up with each other https://mit.rideamigos.com/
---

Staff can access the commuter dashboard through their Atlas page
---
Project Partners: