Access MIT
Your commute counts. Switch it up.
In 2016, MIT set out to reduce parking demand on campus by 10 percent over two years with the launch of Access MIT. MITOS participated in the design process with researchers and decision makers on the development of the program which combines pay-per-day parking with zero-cost access to MBTA subway and local bus, among other benefits for employees. The team also launched a public awareness campaign to accompany the new benefits and reframe the commuting experience.
For more details about specific commuting programs and benefits, visit: http://web.mit.edu/facilities/transportation/.
Impacts of the Program
The program seeks to nudge the MIT community to rethink their commute. Since it began, the program has contributed to a nearly 15 percent reduction in on campus parking demand and consistent year over year increases in employee public transportation use, surpassing its initial goal. MITOS works collaboratively with MIT Parking and Transportation, the Transit Lab, and student research fellows to analyze data and understand the current and potential impact of Access MIT.
 
---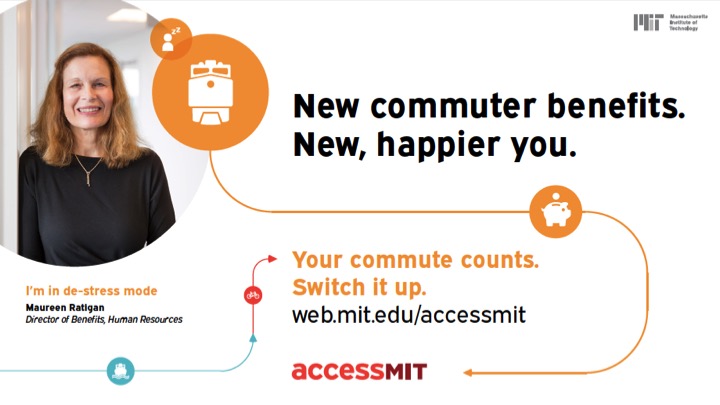 An example of the commuter campaign materials
---
Moving Forward
MITOS will continue to work across its campus and city partners to analyze data and explore new ways to provide commuters with the flexibility to choose, day-to-day, how they would like to commute, from carpooling to active transportation.
---

Staff can access the commuter dashboard through their Atlas page
---
Project Partners:
Access MIT in the News:
Access MIT Commuter Stories