Getting to know MIT's Office of Sustainability
 
The MIT Office of Sustainability sits at the nexus of the Institute's administrative, research, and educational units.
We aim to transform MIT into a powerful model that generates new and proven ways of responding to the unprecedented challenges of a changing planet via operational performance, education, research and innovation on our campus.
 
Ensure that MIT's campus growth, development, and renewal reflect the highest commitment to sustainability while demonstrating leading practices and advancing the pursuit of innovation
Embed the principles of sustainability into all operational functions of the Institute and to promote overarching systems that are adaptive to continuous improvement
Seek shared solutions to common challenges with the Cities of Cambridge, Boston and partners beyond
Enable the campus as a living and learning laboratory for sustainability that brings new knowledge and action to bear.
Initially, we seek to catalyze Institute-wide change by setting the campus on a solid course to sustainability that is both grounded in best practices and visionary in its adoption of next generation strategies
Ensure that MIT's planned renewal and growth demonstrate the interdependence between economic vitality, ecological health, and human well-being
Fundamentally contribute to the core research and education mission of the Institute
Embrace the entrepreneurial spirit of MIT by finding opportunities to partner and invent new processes and systems that achieve our goals
Rely upon distributed leadership and collective intelligence to frame and solve problems
Partner with colleagues across the MIT campus to align related centers and initiatives
Be place-based and draw from localized knowledge and solutions
Seek and implement scalable models for sustainability
Designs, builds and operates our buildings
Produces, uses and distributes energy for campus operations
Procures food
Moves people to, from, and around campus
Maintains and restores land, water, and air resources
Acquires, disposes, and reuses materials while reducing consumption
Ensures campus and natural systems that promote human health and well-being
The MIT Office of Sustainability works to inspire and enable the continuous generation of breakthrough sustainability solutions to transform our campus, city and globe.
This effort starts at the campus level, where we work with students and professionals to create solutions to common challenges that both serve MIT's needs and have potential applications for the broader community. 
We then collaborate with our neighbors in Cambridge and around Boston to scale the innovations that have proven successful at the campus level. It is our goal to make the structures, processes, and solutions developed at MIT accessible for reapplication across the globe.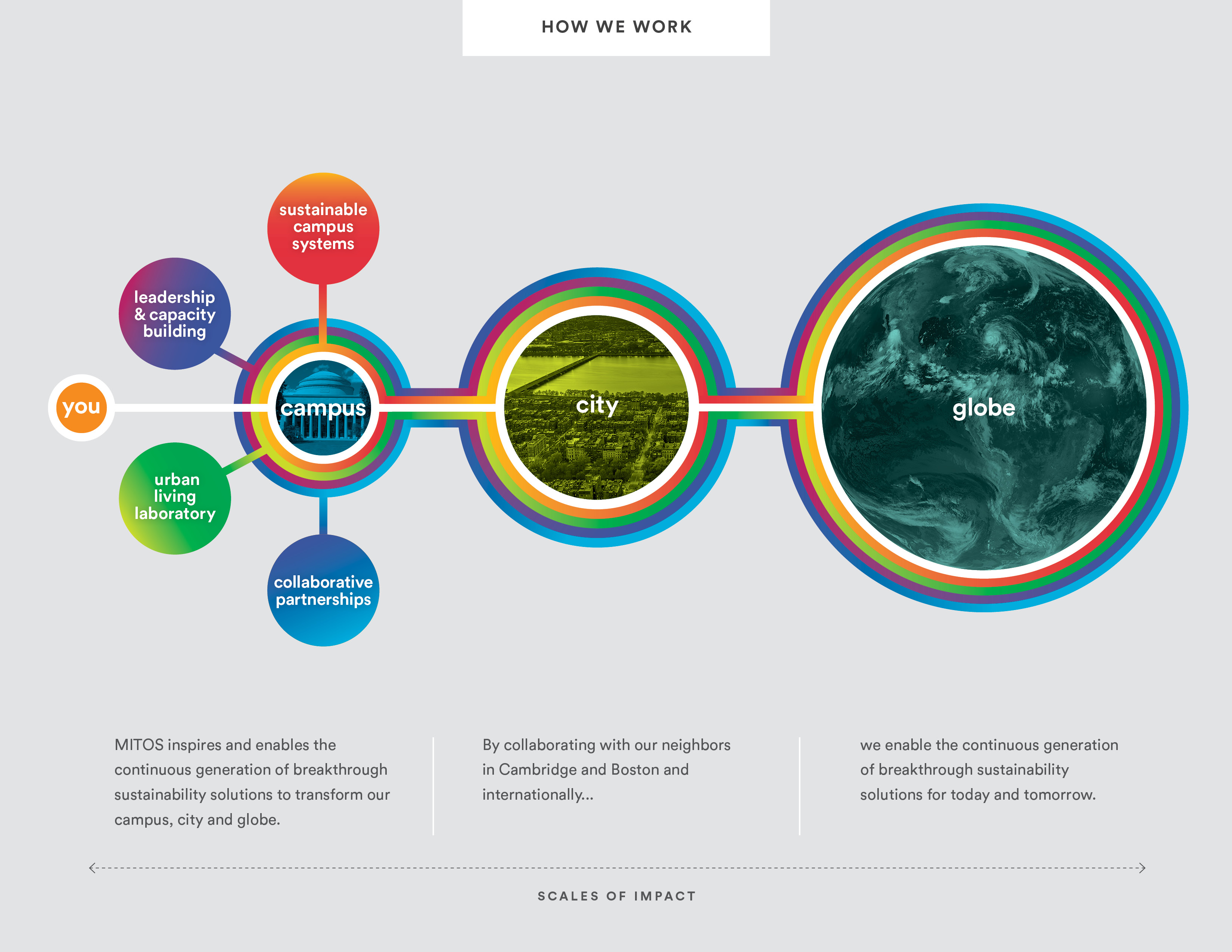 ---
We invite you to learn and grow with us as the Office of Sustainability continues to develop a framework for the Institute. Read a letter from Director of Sustainability, Julie Newman, to hear more about MIT's path toward sustainability. We look forward to working together.
The Office of Sustainability is a unit of the Office of the Executive Vice President and Treasurer.