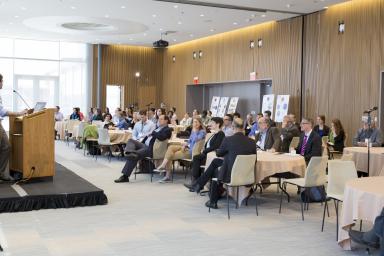 Partnering to advance sustainability
Our commitment to sustainability is guided by scientific research that shows that efforts to meet the needs of an ever-increasing global population are undermining the natural environment's essential life-support systems. As an Institute, we have great capacity to tackle this challenge and to find and test solutions. But we know we must work across departments, neighborhoods, and political boundaries to make this happen.
At MITOS, we are tapping into the collective intelligence of staff, faculty, and student partners across MIT and the broader community to study current conditions, craft solutions and analyze impacts related to sustainability and climate change. We do this by facilitating working groups and task forces around specific subject areas; participating on committees within the City of Cambridge and Boston; hosting meetings and conferences for audiences local and global; and building networks with partners across the region and world.
Learn more about the networks and groups on campus, city-wide, and around the region and globe.
---
MITOS Vision for Networks and Strategic Partnerships
To engage diverse networks to learn and share knowledge and perspectives to create better solutions for sustainability. To build and strengthen the capacity of our communities to enable change towards a just, equitable, safe, and sustainable future.
Subscribe to the MITOS Digest