Start your sustainability journey, wherever you are
An ambitious vision for campus sustainability at MIT is underway and achieving it will be a process. We want you to think of your own journey to sustainability as a process, too: start, study, solve.
---
Shifting our practices to be more sustainable and discovering new solutions to sustainability issues will not happen overnight. At the same time it's never been easier or more important for all kinds of members of the MIT Community to get started by contributing to MIT's commitment.
Getting started can mean many things: looking at a daily decision through a new angle, exploring fresh ideas, connecting with new people, or making small changes at work, in the classroom, the lab or the dorm. The resources below are a starting point for your journey – ways to begin engaging in the collaborative process to make our campus more sustainable. Where you choose to go next is up to you.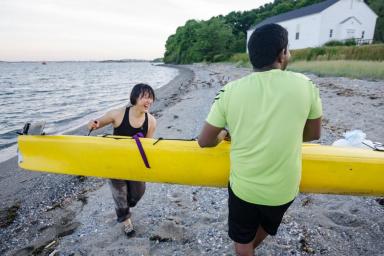 Photo: MIT Outing Club