Collaborative Climate Action Program @ MIT
Addressing some of MIT's climate goals relies on the collective efforts of individuals and departments, given the Institute's decentralized structure and culture. Empowering individuals and departments in making a positive impact, the Collaborative Climate Action Program at MIT provides the necessary tools, information, and support to foster sustainable practices and drive real change. Join us to explore a wide range of actions, such as hosting sustainable events, engaging in purposeful purchasing, reducing the carbon footprint of food procurement, improving recycling practices, cultivating a strong culture of reuse, and creating local climate and sustainability action plans, among others. By uniting our efforts, we create an environment of shared knowledge that inspires collective action, amplifying the impact of our localized endeavors.
---
"How will your work help make the whole of our efforts on climate greater than the sum of the parts –
a multiplication of our talent and our capacity?"
- MIT President Sally Kornbluth's Inaugural Address
---
Fall 2023 Program for Staff
MIT staff are invited to join our fall program organized in partnership with the MIT Working Green Committee

| | |
| --- | --- |
| | You will receive a bi-weekly email focused on one action you can take to make your workplace more sustainable and reduce MIT's climate impact. |
| | Attend the bi-weekly community check-in to connect with other MIT staff who are also taking steps to make offices, departments, labs, and centers across campus more sustainable. Share your own promising practices, ideas, challenges, and progress. Bring any questions for staff from the MIT Office of Sustainability. |
Email c2ap-admins@mit.edu with questions!
Past Collaborative Climate Action Program @ MIT Action Emails
---
Create a Local Plan
Fast Forward: MIT's Climate Action Plan for the Decade encourages all departments, labs, and centers to prepare and implement their own carbon footprint reduction and sustainability plans.
Many units are already taking meaningful action on climate and sustainability. This program is designed to support, amplify, and provide context for those efforts. For units at early stages in the planning process, this program offers guidance and a framework for identifying goals, strategies, and actions aligned with MIT's commitments, and paths to achieving them. As we implement this program and assess how it is working, we expect to learn from each other and uncover new ideas.
Planning Resources
Planning Framework: Six Steps to Creating a Local Plan
Template for Local Action Plan
Worksheet for Action
Template for Tracking Progress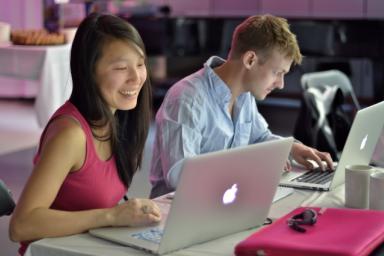 Campus partnerships and strategic collaborations
When climate scientists, transportation experts, and researchers work with staff and the broader community – each bringing their own backgrounds and expertise – new ideas emerge and have the momentum to succeed. From the Undergraduate Association's Committee on Sustainability to the Working Green Committee, such campus partnerships and strategic collaborations inspire and inform MIT's efforts to create a more sustainable campus.
In addition to facilitating working groups and task forces, MITOS also organizes events like the annual Sustainability Connect meeting, which convenes MIT committees, groups, and thinkers involved in creating next generation campus sustainability programs. Learn more below.
Get involved in a sustainability group on campus
There are plenty of opportunities to learn and get involved. Start by joining a group.
A Network of Campus Partners
The following groups and departments are just a sampling of the campus departments and initiatives that partner on sustainability.