Summit Farms: Investing in off-site renewable energy
In October 2016, MIT announced the formation of an innovative alliance with Boston Medical Center and Post Office Square Redevelopment Corporation to purchase electricity from a large new solar power installation. The 25-year power purchase agreement (PPA) will add carbon-free energy to the grid while demonstrating a partnership model for other organizations in climate-change mitigation efforts. The expected 146 gigawatt-hours of emissions-free power per year will eliminate approximately 119,500 metric tons of carbon dioxide emissions — the equivalent of removing 25,250 cars from the road.
The agreement has enabled the construction of a roughly 650-acre, 60-megawatt solar farm on farmland in North Carolina. Called Summit Farms, the facility is the largest renewable-energy project ever built in the U.S. through an alliance of diverse buyers. MIT's purchase of power from this facility's 255,000 solar panels is equivalent to 40 percent of the Institute's current electricity use.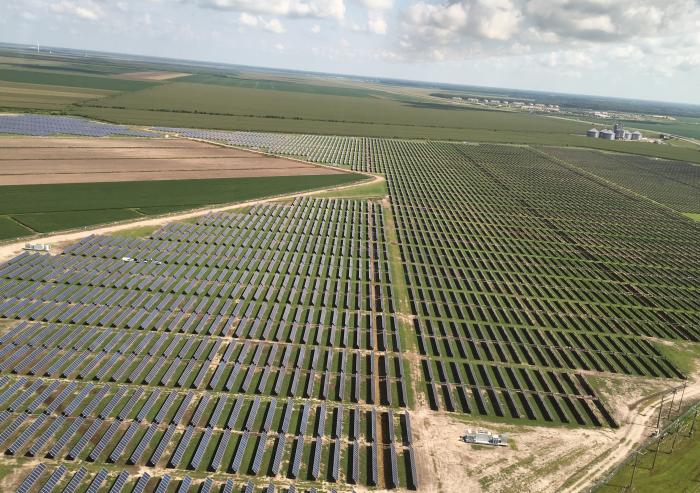 Benefits and contribution to MIT's climate action plan
MIT and its partners evaluated 41 potential renewable-energy projects — some of which were much closer to the Boston area. The Summit Farms PPA had a number of significant advantages: it uses a larger contiguous area than was available in the Northeast, and the local companies handling the design and installation of the solar panels have a proven track record of building and operating similar facilities, minimizing uncertainties about the facility's cost and output.
In addition, the existing power grid in North Carolina has significantly higher greenhouse-gas emissions: more of that region's energy comes from coal-fired plants than in New England. This means that more emissions will be displaced for a given amount of solar power than for a similar facility built in the Northeast.
The impact of this partnership and PPA on MIT's carbon footprint is equivalent to more than half of the total emissions reductions that MIT committed to in its Plan for Action on Climate Change, announced on Oct. 21, 2015 — a 32 percent reduction from 2014 levels, to be achieved by 2030.
For more information, visit the Department of Facilities page.
Read MIT's announcement of this solar power purchase agreement.
Project Partners
Department of Facilities

Office of the Treasurer

Office of the General Council

Office of Sustainability

Boston Medical Center

Post Office Square Redevelopment Corporation