MIT News Office
Sustainable open space projects win BSLA Awards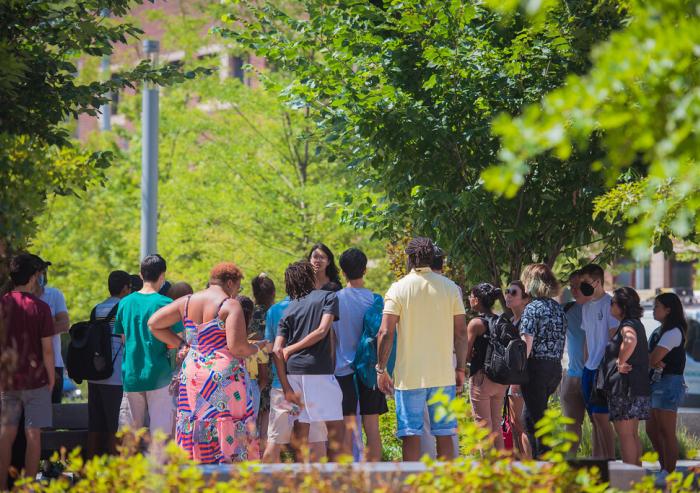 ---
The landscape of MIT has transformed tremendously in recent years. Multiple surface parking lots and service alleys have been turned into active and sustainable open spaces. Three recent landscape projects—the Kendall/MIT Open Space, Site 4 Roof Terraces, and North Corridor—earned 2022 Boston Society of Landscape Architects (BSLA) Design Awards which recognize projects that, "demonstrate excellence and reflect the careful stewardship, wise planning, and artful design of our cultural and natural environment."  Though each project is unique, all share a common thread of sustainability. "Design and sustainability cannot be two separate things," says Maureen McCaffrey, director at MIT Investment Management Company (MITIMCo) and project lead for the Kendall/MIT Open Space. "Sustainability is baked into the design." 
While sustainability was an intrinsic part of all three awarded projects, so was complexity—creating climate resilient landscaping and hardscaping in multiuse spaces on a dense urban campus is no easy task. "Landscapes have gotten much more complex in their design, construction, and maintenance compared to a traditional passive use of just trees planted in a lawn," explains Laura Tenny, senior campus planner at MIT and project lead for the North Corridor project. 
Open Space and Site 4
In designing the MIT/Kendall Square Open Space, the charge was to transform a two-acre parcel—formerly surface parking lots—into a "welcoming, active, and accessible space for Cambridge, MIT, and Kendall Square communities." The resulting Open Space delivers on this charge with a green, multifunction, community-oriented space that uses landscape design and systems to manage stormwater and heat island effects while hosting resilient plants and more than 200 of MIT's newest trees. This was accomplished with one major complicating factor: much of the Open Space is atop below-grade parking. "Between landscape design and civil engineering, it was a great deal of coordination. We needed to create structural allowances to allow for trees to be planted," explains McCaffrey. "The teams behind these landscapes are increasingly diverse," says Tenny, citing that landscape architects, civil engineers, soil scientists, arborists, and irrigation designers all played a role in the design and development of the space that required close cross-disciplinary coordination with project architects and engineers. The resiliency features of the Open Space extend beyond what the eye can see as it acts as a district-level stormwater management system, responding to multiple buildings in the east corner of campus. This system captures surface and roof runoff from buildings into a 200,0000 gallon below-grade stormwater cistern. Water from the cistern is in turn reused for cooling towers and irrigation in the area.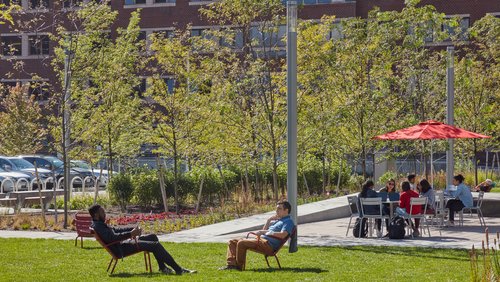 Site 4 Roof Terraces
The cistern also collects stormwater runoff from another BSLA awardee, the Site 4 Roof Terraces, which are the outdoor play space for the Kendall Childcare Center at Building E37. The terraces are intensive green roofs which have deep layer of soil and substrate, enabling rolling hills, plantings, and trees to provide an engaging, resilient, and cool play space. By design, the roof is high albedo, absorbing less of the sun's heat; the soil and plantings also function to limit storm water runoff. Like the Open Space, there are unique considerations to the project, says Chris MacFarlane project director with Landworks Studio, the landscape architect for the terraces. "We had to design an ecological system that fuels itself under harsh conditions that roofs face," he explains. "We also needed to have a secure building envelope and then above that build in a system that is not natural." Despite the constraints, the terraces have served as an active play space and additional source of greenery and shade in the Kendall/MIT Open Space since 2020.
North Corridor/ The "Outfinite"
Not far across campus is the third BSLA awardee, the North Corridor—also known as the "Outfinite"—home to more than 100 new campus trees. The new North Corridor transformed surface parking and service alleys into a "green inviting, accessible, friendly campus passage." The green elements of the space help to cool down the area on hot days and plantings, soil, and trees aid stormwater management systems.  Stormwater that falls on the pavement gets collected in trench drains and directed to soils and planting that can capture, filter, and absorb it, before delivering any excess rainwater back to the storm drain system and ultimately to the Charles River. With the North Corridor, Tenny say the design team developed the project to meet sustainability and resiliency goals within the existing constraints—including necessary vehicle traffic in the area for service and emergency access —and then let the design flow from that. "We looked at sustainability and functional requirements and the programming planned for a space and then designed from there," she explains. The resulting space has added a newly activated passageway to MIT—complimenting the Infinite Corridor—while enhancing the area for resiliency to heat and storm events and creating a new community gathering space.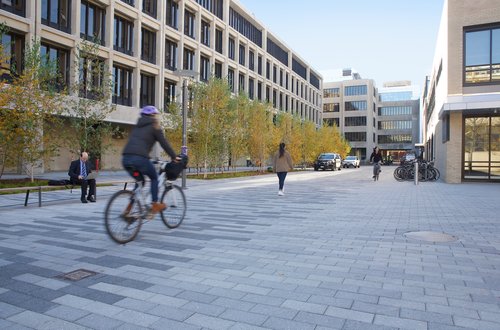 Project Teams
Kendall/MIT Open Space 
Landscape Architect Hargreaves Jones
Architect Perkins Will
Civil Engineer Nitsch Engineering
Construction Manager Turner Construction, Xquisite Landscaping
Project Manager RedGate Real Estate Development
MIT Team Maureen McCaffrey, Laura Tenny, Lynne Thompson, Dennis Jillson
Site 4 Roof Terraces
Landscape Architect Landworks Studio 
Architect Perkins Will
Civil Engineer Nitsch Engineering 
Construction Manager Turner Construction, Brightview Landscaping
MIT Team Nicole Bernabei, Christos Maravelias, Paul Ricci, Sonia Richards
North Corridor
Landscape Architect Reed Hilderbrand
Civil Engineer Nitsch Engineering
Construction Manager Turner Construction
MIT Team Travis Wanat, Marty Deluga, Emma Corbalan, Phyllis Carter, Laura Tenny