Reflecting on Our Food System as We Return to Campus
As a full cohort of students and staff return to campus, food will likely play a role in welcoming the MIT community back to campus. In anticipation of shared campus food experiences this academic year, it's the perfect time to reflect on the challenges and opportunities in our food system as well as the people and dishes that got us through the past year.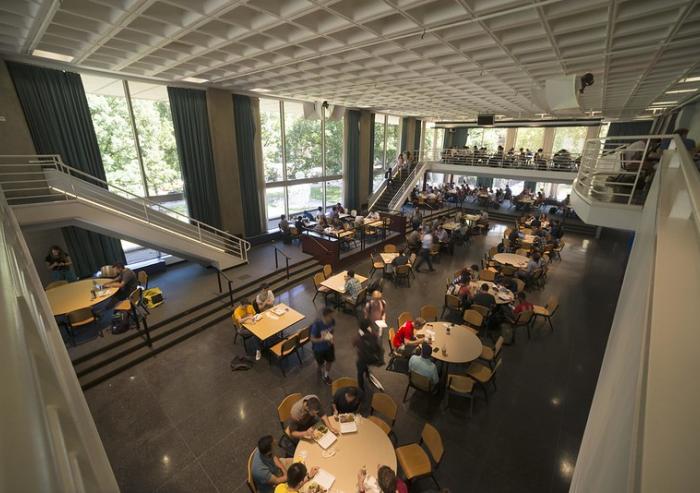 ---
Reflecting on a challenging year
Many vulnerabilities in our food system were made plain during the pandemic. Shoppers encountered empty grocery shelves as people stocked up on food during lockdowns, distribution channels were strained, and meat facilities were shuttered as hundreds of workers tested positive for the coronavirus. The restaurant industry was hit especially hard. In Massachusetts, it has been reported that as many as 1 in 4 restaurants went out of business amid the pandemic, according to the Massachusetts Restaurant Association. Black, women, and minority-owned restaurants—who already faced deep-rooted inequities—struggled the most.
Talking Food with Nina DeAgrela and Beatriz Cantada
This fall, we can work together to support a food system that considers communities, essential workers, local economies, structural inequalities, health—and of course, sustainability. To get the conversation about the return to campus started, I talked to two offices that have been intentional about choosing nutritious, culturally-relevant catering options for their events.
Nina DeAgrela, Assistant Dean of Intercultural Engagement for Multicultural Programs at OMP, and Beatriz Cantada, Director of Engagement for Diversity and Inclusion at ICEO let us know some of their pre-pandemic go-to's, at-home favorites, and exciting choices for the future. See below for their answers to a few food-related questions!
Asia, MITOS: What were your favorite foods to cook during the pandemic year? Did you learn any new food skills or pick up any new recipes?
Nina, OMP: We kept it simple and while it's not new, used our air fryer to make anything from pork chops to French fries, to homemade mozzarella sticks! No new recipes during the pandemic, but just a chance to cook more – and make some homemade meals from scratch like baked macaroni and cheese or an Asian inspired beef and broccoli dish. If and when we ordered take out (on occasion), we supported local Jamaican or Latin restaurants.
Beatriz, ICEO: My hubby cooks and I just eat. 😊
Asia, MITOS: From what local restaurant(s) are you excited to cater when you can hold events on campus again? And what tasty dishes are you looking forward to sharing?
Nina, OMP: We are excited to order again from some of our staple vendors (some more local than others, but all deliver to MIT for catering orders) – Izzy's Restaurant, Oasis Brazilian Steakhouse, Mâe Asian Eatery, Darryl's Corner Bar & Kitchen, and Saloniki Greek.
Beatriz, MITOS: I'm looking forward to working with Shanti, Basil Tree Catering, Rita's Catering, and Jamaica Mi Hungry again.
Asia, MITOS: Are there any local caterers or restaurants you're hoping to try out in the future?
Nina, OMP: Trick question? All of them? I haven't even made it halfway up Massachusetts Ave. (where my office is located) so hoping to try to any new or existing places when we get back!
Beatriz, ICEO: As we resume campus events in the fall, my office would like to be intentional about supporting minority-owned businesses in the Cambridge area. As a Filipino woman looking to share the cuisine from my homeland, I hope to bring Tanam to campus and other caterers from this list.
Food Sustainability at Events
If you're looking for ways to prioritize sustainability and cut back on waste and carbon on your plate during MIT events, check out MITOS's Sustainable Catering Checklist and keep these tips in mind when talking to your caterer or restaurant:
Use reusables whenever possible, especially if you have access to a dishwasher.

Ask attendees to bring their own mugs, bottles, and utensils.

Avoid box lunches whenever possible, but if boxes are a must, ask the caterer to keep condiments and utensils outside of the boxed lunches to avoid needless waste.

Order bulk canteens for water, coffee and other beverages when possible.

Maximize vegetarian and vegan options where possible to help lower environmental impact.
The fall is quickly approaching and after months of virtual gatherings, many are eager to meet in person and even share a meal. As we resume campus life, let's not forget how complex our food system can be and how closely our communities' well-being is tied to food. When we can, let's be intentional about how, what, and from whom we choose to eat, keeping in mind a vision for a more sustainable, just food culture at MIT.
Food Resources
MIT has a number of resources for students to access nutritious & affordable food. Take a look here for more information.