MIT News Office
Miho Mazereeuw, an architect of built and natural environments, looks for new ways to get people ready for natural disasters.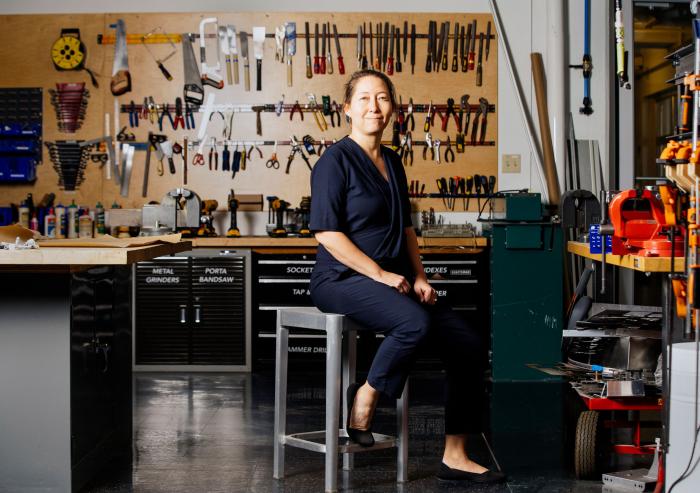 ---
The Kobe earthquake of 1995 devastated one of Japan's major cities, leaving over 6,000 people dead while destroying or making unusable hundreds of thousands of structures. It toppled elevated freeway segments, wrecked mass transit systems, and damaged the city's port capacity.
"It was a shock to a highly engineered, urban city to have undergone that much destruction," says Miho Mazereeuw, an associate professor at MIT who specializes in disaster resilience.
Even in a country like Japan, with advanced engineering, and policies in place to update safety codes, natural forces can overwhelm the built environment.
"There's nothing that's ever guaranteed safe," says Mazereeuw, an associate professor of architecture and urbanism in MIT's Department of Architecture and director of the Urban Risk Lab. "We [think that] through technology and engineering we can solve things and fight nature. Whereas it's really that we're living with nature. We're part of this natural ecosystem."
That's why Mazereeuw's work on disaster resilience focuses on plans, people, and policies, well as technology and design to prepare for the future. In the Urban Risk Lab, which Mazereeuw founded, several projects are based on the design of physical objects, spaces, and software platforms, but many others involve community-level efforts, so that local governments have workable procedures in case of emergency.
"What we can do for ourselves and each other is have plans in place so that if something does happen, the level of chaos and fear can be reduced and we can all be there to help each other through," Mazereeuw says. When it comes to disaster preparedness, she adds, "Definitely a lot of it is on the built environment side of things, but a lot of it is also social, making sure that in our communities, we know who would need help, and we have those kinds of relationships beforehand."
The Kobe earthquake was a highly influential event for Mazereeuw. She has researched the response to it and has a book coming out about natural disasters, policies, and design in Japan. Beyond that, the Kobe event helped reinforce her sense that when it comes to disaster preparedness, progress can be made many ways. For her research, teaching, and innovative work at the Urban Risk Lab, Mazereeuw was granted tenure at MIT last year.
Two cultures grappling with nature
Mazereeuw has one Dutch parent and one Japanese parent, and both cultures helped produce her interest in managing natural forces. On her Dutch side, many family friends were involved with local government and water management — practically an existential issue in a country that sits largely below sea level.
Mazereeuw's parents, however, were living in Japan in 1995. And while they happened to be away while the Kobe earthquake hit, her Japanese links helped spur her interest in studying the event and its aftermath.
"I think that was a wake-up call for me, too, about how we need to plan and design cities to reduce the impact of chaos at the time of disasters," Mazereeuw says.
Mazereeuw earned her undergraduate degree from Wesleyan University, majoring in earth and environmental sciences and in studio art. After working in an architectural office in Tokyo, she decided to attend graduate school, receiving her dual masters from Harvard University's Graduate School of Design, with a thesis about Kobe and disaster readiness. She then worked in architecture offices, including the Office of Metropolitan Architecture in Rotterdam, but returned to academia to work on climate change and disaster resilience.
Mazereeuw's book, "Design Before Disaster," explores this subject in depth, from urban planning to coastal-safety strategies to community-based design frameworks, and is forthcoming from the University of Virginia Press.
Since joining the MIT faculty, Mazereeuw has also devoted significant time to the launch and growth of the Urban Risk Lab, an interdisciplinary group working on an array of disaster-preparedness efforts. One such project has seen lab members work with local officials from many places — including Massachusetts, California, Georgia, and Puerto Rico — to add to their own disaster-preparedness planning.
A plan developed by local officials with community input, Mazereeuw suggests, will likely function better than one produced by, say, consultants from outside a community, as she has seen happen many times: "A report on a dusty shelf isn't actionable," she says. "This way it's a decision-making process by the people involved."
In a project based on physical design, the Urban Risk Lab has also been working with the U.S. Federal Emergency Management Agency on an effort to produce temporary postdisaster housing for the OCONUS region (Alaska, Hawaii, and other U.S. overseas territories). The lab's design, called SEED (Shelter for Emergency Expansion Design), features a house that is compact enough to be shipped anywhere and unfolds on-site, while being sturdy enough to withstand follow-up events such as hurricanes, and durable enough to be incorporated into longer-term housing designs.
"We felt it had to be really, really good quality, so it would be a resource, rather than something temporary that disintegrates after five years," Mazereeuw says. "It's built to be a small safety shelter but also could be part of a permanent house."
A grand challenge, and a plethora of projects
Mazereeuw is also a co-lead of one of the five multiyear projects selected in 2022 to move forward as part of MIT's Climate Grand Challenges competition. Along with Kerry Emanuel and Paul O'Gorman, of MIT's Department of Earth, Atmospheric and Planetary Sciences, Mazereeuw will help direct a project advancing climate modeling by quantifying the risk of extreme weather events for specific locations. The idea is to help vulnerable urban centers and other communities prepare for such events.
The Urban Risk Lab has many other kinds of projects in its portfolio, following Mazereeuw's own interest in conceptualizing disaster preparedness broadly. In collaboration with officials in Japan, and with support from Google, lab members worked on interactive, real-time flood-mapping software, in which residents can help officials know where local flooding has reached emergency levels. The researchers also created an AI module to prioritize the information.
"Residents really have the most localized information, which you can't get from a satellite," Mazereeuw says. "They're also the ones who learn about it first, so they have a lot of information that emergency managers can use for their response. The program is really meant to be a conduit between the efforts of emergency managers and residents, so that information flow can go in both directions."
Lab members in the past have also mapped the porosity of the MIT campus, another effort that used firsthand knowledge. Additionally, lab members are currently engaging with a university in Chile to design tsunami response strategies; developing a community mapping toolkit for resilience planning in Thailand and Vietnam; and working with Mass Audubon to design interactive furniture for children to learn about ecology.
"Everything is tied together with this interest in raising awareness and engaging people," Mazereeuw says.
That also describes Mazereeuw's attitude about participation in the Urban Risk Lab, a highly cross-disciplinary place with members who have gravitated to it from around MIT.
"Our lab is extremely interdisciplinary," Mazereeuw says. "We have students coming in from all over, from different parts of campus. We have computer science and engineering students coming into the lab and staying to get their graduate degrees alongside many architecture and planning students." The lab also has five full-time researchers — Aditya Barve, Larisa Ovalles, Mayank Ojha, Eakapob Huangthananpan, and Saeko Baird — who lead their own projects and research groups.
What those lab members have in common is a willingness to think proactively about reducing disaster impacts. Being prepared for those events itself requires preparation.
Even in the design world, Mazereeuw says, "People are reactive. Because something has happened, that's when they go in to help. But I think we can have a larger impact by anticipating and designing for these issues beforehand."