MIT News Office
New Volpe Center opens to support the country's most innovative transportation projects
MIT community members gathered with local, state, and federal leaders in Kendall Square for a ceremony marking a milestone in the area's transformation.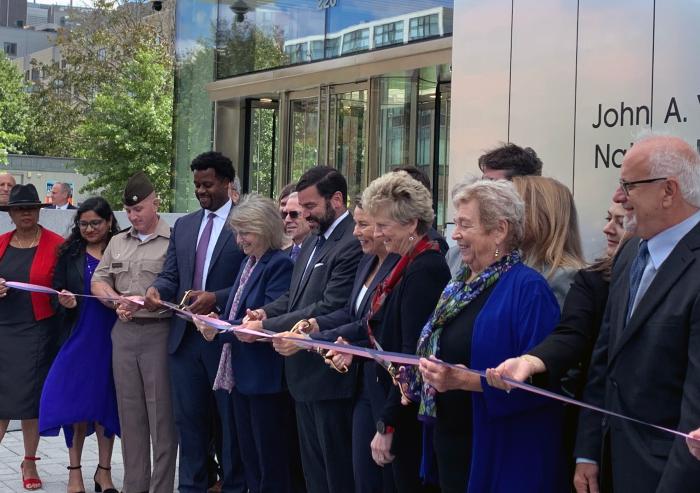 Credit: Kimberly Allen, MIT
---
On a crisp Tuesday afternoon, representatives from MIT, the state and federal government, and the Cambridge community celebrated the official opening of the new John A. Volpe National Transportation Systems Center in Kendall Square.
The ribbon-cutting ceremony was the culmination of nearly a decade of collaboration in which MIT designed and constructed the highly energy-efficient building as part of an agreement that will allow the Institute to develop 10 additional acres of land in the Kendall Square area that are no longer needed by the federal government.
"I know many of you have been involved in the Volpe project for years — back when it was just an improbable concept," President Sally Kornbluth told an audience contending with sporadic wind gusts. "I've been at MIT less than a year, but already it's clear to me that together, we're in the midst of doing something quite incredible on this site ­— a unique collaboration that benefits everyone involved."
The Volpe Center, which is part of the U.S. Department of Transportation, supports cutting-edge research and development of new transportation solutions while addressing emerging and future challenges posed by trends across modes of transit, from autonomous vehicles to drone deliveries.
The center has been an engine for research and innovation within the federal government since 1970. It works on projects from the Department of Transportation as well as the Department of Defense, NASA, the Department of Interior, and state and local governments.
The new building — designed and built by MIT — will replace six aging Volpe buildings in the East Cambridge site that have been housing the center. It includes conference rooms, laboratories, offices, open workspaces, specialized building hangars, a day care center, and a unique public art space created by renowned designer and sculptor Maya Lin.
"At long last, Volpe has a headquarters that's worthy of its critical mission, its brilliant staff, and its strategic location," said Carlos Monje, the Department of Transportation's under secretary of transportation for policy. "The vibrancy, diversity, and energy of the dynamic Kendall Square innovation hub helps inform our work, creates recruitment opportunities, and positions us to meet the future needs of the department and the nation."
The building, which is on track to receive LEED Platinum-certification, will use less than half the energy of traditional buildings. It features triple-paned glass, heat recovery chillers, electric vehicle chargers, a rainwater reclamation and reuse system, a rooftop solar array, and more sustainability components.
Some speakers noted the energy-efficient building will be emblematic of the work going on within its walls to make the country's transportation systems more sustainable. Others said for them, the building represents the possibilities unlocked when organizations across sectors work to find innovative solutions.
"Right here we've got the intellectual firepower of world-renowned academic institutions, a city and a neighborhood that bring people together, and a federal administration that is investing in our country's future," Massachusetts Governor Maura Healey said. "I believe — and I may be a little biased — that what happens in Massachusetts matters not just to the people of Massachusetts, it matters to America and it matters for the world. Right here is where so much innovation and advancement happens for the good and betterment of society. Today is about more than celebrating a beautiful facility. It's also emblematic of this time that we're in and what's possible right here in this state."
The opening also marked a milestone in MIT's broader development plans for the Volpe parcel. In the remaining 10 acres — which are included in the first-of-its-kind purchase agreement with the federal government — the Institute plans to create a vibrant, mixed-use center that strengthens connections in the Cambridge community through new open spaces, pedestrian links, market and affordable housing, retail and restaurants, a community center, and science and innovation facilities.
Kornbluth recognized former MIT president L. Rafael Reif for formulating the vision for the space, and joked that she's looking forward to enjoying the space not only as MIT's president, but as a nearby Cambridge resident with two dogs.
"On the acreage opened up by this unique arrangement, MIT will create an appealing new hub of activity in the heart of Kendall Square, a place for discovery and innovation, for grabbing a sandwich, for walking the dog, for making friends, raising kids — and meeting your next collaborator," Kornbluth said.