MIT students visit local farm supporting healthy food systems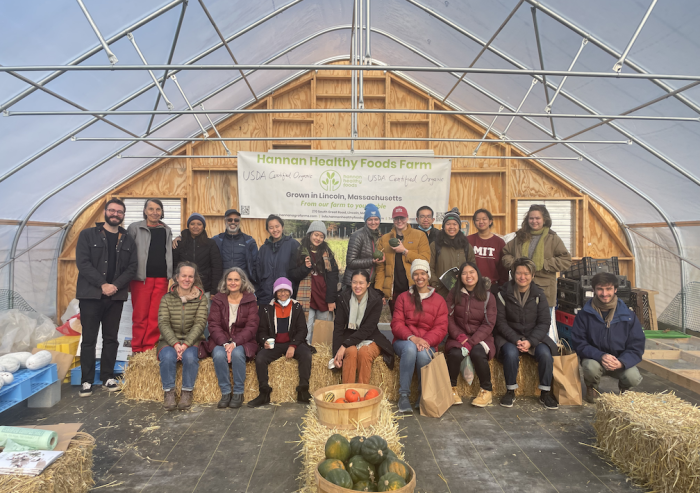 ---
In late November, students from the Asian American Initiative (who sparked the idea of a farm visit), the Department of Anthropology, Terrascope, and Office of Multicultural Programs joined an event coordinated by the Office of Sustainability to visit Hannan Healthy Foods Farm in Lincoln, MA. At the farm, students learned about what it takes to start a farm, grow veggies, contribute to a healthy food system, connect with our cultures, experiment and fail, try again, get up before the sun rises, and leave the farm as the sun sets and coyotes howl.
In addition to learning all of the above from Hannan Farm owner and farmer, Mohammed Hannan, students harvested late season thyme and plucked some of the last of the tomatoes off the vines and brought home some nutritious squash.
Hannan's path to starting his own farm is unique. Having grown up on a family farm in Bangladesh, moved to the U.S., studied biology and marine conservation, he made a return to farming while still working full-time just blocks from MIT. He talked to the students about the importance of investing time and resources on healthcare solutions, not just in the lab, but on the farm, too, where healthy food starts.
Learn more about Hannan Healthy Foods Farm and the New Entry Sustainable Farming Project, which helped Hannan get his start farming in Massachusetts.
Hannan Healthy Foods Farm Visit