MIT News Office
Merging science and systems thinking to make materials more sustainable
Passionate about materials science "from the atom to the system," Elsa Olivetti brings a holistic approach to sustainability to her teaching, research, and coalition-building.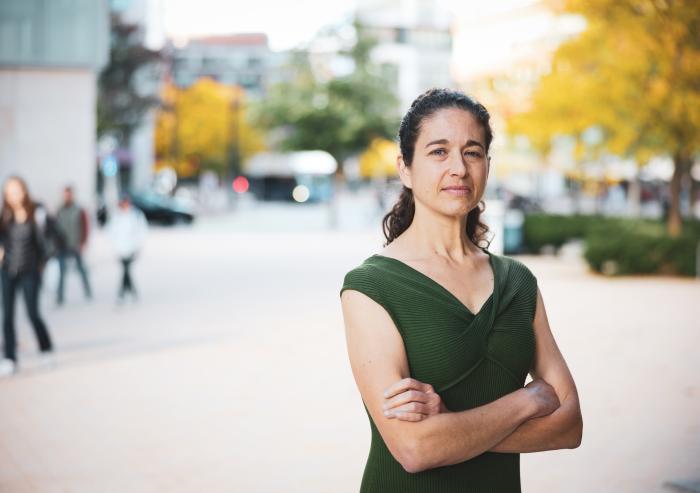 ---
For Professor Elsa Olivetti, tackling a problem as large and complex as climate change requires not only lab research but also understanding the systems of production that power the global economy.
Her career path reflects a quest to investigate materials at scales ranging from the microscopic to the mass-manufactured.
"I've always known what questions I wanted to ask, and then set out to build the tools to help me ask those questions," says Olivetti, the Jerry McAfee Professor in Engineering.
Olivetti, who earned tenure in 2022 and was recently appointed associate dean of engineering, has sought to equip students with similar skills, whether in the classroom, in her lab group, or through the interdisciplinary programs she leads at MIT. Those efforts have earned her accolades including the Bose Award for Excellence in Teaching, a MacVicar Faculty Fellowship in 2021, and the McDonald Award for Excellence in Mentoring and Advising in 2023.
"I think to make real progress in sustainability, materials scientists need to think in interdisciplinary, systems-level ways, but at a deep technical level," Olivetti says. "Supporting my students so that's something that a lot more people can do is very rewarding for me."
Her mission to make materials more sustainable also makes Olivetti grateful she's at MIT, which has a long tradition of both interdisciplinary collaboration and technical know-how.
"MIT's core competencies are well-positioned for bold achievements in climate and sustainability — the deep expertise on the economics side, the frontier knowledge in science, the computational creativity," Olivetti says. "It's a really exciting time and place where the key ingredients for progress are simmering in transformative ways."
Answering the call
The moment that set Olivetti on her life's journey began when she was 8, with a knock at her door. Her parents were in the other room, so Olivetti opened the door and met an organizer for Greenpeace, a nonprofit that works to raise awareness of environmental issues.
"I had a chat with that guy and got hooked on environmental concerns," Olivetti says. "I still remember that conversation."
The interaction changed the way Olivetti thought about her place in the world, and her new perspective manifested itself in some unique ways. Her elementary school science fair projects became elaborate pursuits of environmental solutions involving burying various items in the backyard to test for biodegradability. There was also an awkward attempt at natural pesticide development, which lead to a worm hatching in her bedroom.
As an undergraduate at the University of Virginia, Olivetti gravitated toward classes in environmentalism and materials science.
"There was a link between materials science and a broader, systems way of framing design for environment, and that just clicked for me in terms of the way I wanted to think about environmental problems — from the atom to the system," Olivetti recalls.
That interest led Olivetti to MIT for a PhD in 2001, where she studied the feasibility of new materials for lithium-ion batteries.
"I really wanted to be thinking of things at a systems level, but I wanted to ground that in lab-based research," Olivetti says. "I wanted an experiential experience in grad school, and that's why I chose MIT's program."
Whether it was her undergraduate studies, her PhD, or her ensuing postdoc work at MIT, Olivetti sought to learn new skills to continue bridging the gap between materials science and environmental systems thinking.
"I think of it as, 'Here's how I can build up the ways I ask questions,'" Olivetti explains. "How do we design these materials while thinking about their implications as early as possible?"
Since joining MIT's faculty in 2014, Olivetti has developed computational models to measure the cost and environmental impact of new materials, explored ways to adopt more sustainable and circular supply chains, and evaluated potential materials limitations as lithium-ion battery production is scaled. That work helps companies increase their use of greener, recyclable materials and more sustainably dispose of waste.
Olivetti believes the wide scope of her research gives the students in her lab a more holistic understanding of the life cycle of materials.
"When the group started, each student was working on a different aspect of the problem — like on the natural language processing pipeline, or on recycling technology assessment, or beneficial use of waste — and now each student can link each of those pieces in their research," Olivetti explains.
Beyond her research, Olivetti also co-directs the MIT Climate and Sustainability Consortium, which has established a set of eight areas of sustainability that it organizes coalitions around. Each coalition involves technical leaders at companies and researchers at MIT that work together to accelerate the impact of MIT's research by helping companies adopt innovative and more sustainable technologies.
"Climate change mitigation and resilience is such a complex problem, and at MIT we have practice in working together across disciplines on many challenges," Olivetti says. "It's been exciting to lean on that culture and unlock ways to move forward more effectively."
Bridging divides
Today, Olivetti tries to maximize the impact of her and her students' research in materials industrial ecology by maintaining close ties to applications. In her research, this means working directly with aluminum companies to design alloys that could incorporate more scrap material or with nongovernmental organizations to incorporate agricultural residues in building products. In the classroom, that means bringing in people from companies to explain how they think about concepts like heat exchange or fluid flow in their products.
"I enjoy trying to ground what students are learning in the classroom with what's happening in the world," Olivetti explains.
Exposing students to industry is also a great way to help them think about their own careers. In her research lab, she's started using the last 30 minutes of meetings to host talks from people working in national labs, startups, and larger companies to show students what they can do after their PhDs. The talks are similar to the Industry Seminar series Olivetti started that pairs undergraduate students with people working in areas like 3D printing, environmental consulting, and manufacturing.
"It's about helping students learn what they're excited about," Olivetti says.
Whether in the classroom, lab, or at events held by organizations like MCSC, Olivetti believes collaboration is humanity's most potent tool to combat climate change.
"I just really enjoy building links between people," Olivetti says. "Learning about people and meeting them where they are is a way that one can create effective links. It's about creating the right playgrounds for people to think and learn."