MIT News Office
On the hunt for sustainable materials
PhD student Avni Singhal uses computational tools to help design new materials that address environmental challenges.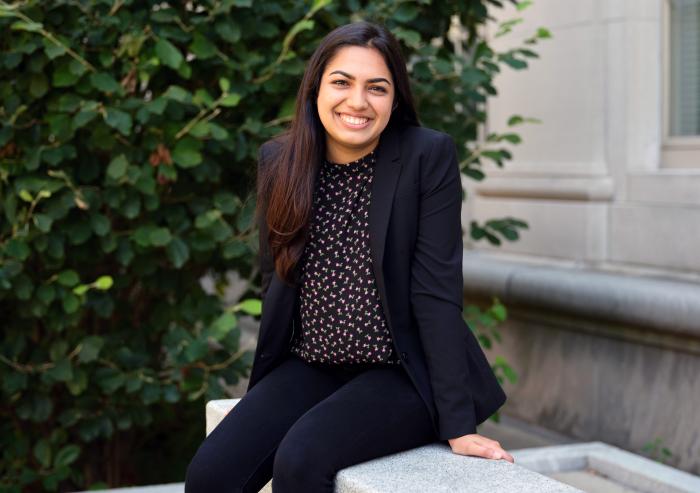 ---
By the time she started high school, Avni Singhal had attended six different schools in a variety of settings, from a traditional public school to a self-paced program. The transitions opened her eyes to how widely educational environments can vary, and made her think about that impact on students.
"Experiencing so many different types of educational systems exposed me to different ways of looking at things and how that shapes people's worldviews," says Singhal.
Now a fourth-year PhD student in the Department of Materials Science and Engineering, Singhal is still thinking about increasing opportunities for her fellow students, while also pursuing her research. She devotes herself to both developing sustainable materials and improving the graduate experience in her department.
She recently completed her two-year term as a student representative on the department's graduate studies committee. In this role, she helped revamp the communication around the qualifying exams and introducing student input to the faculty search process.
"It's given me a lot of insight into how our department works," says Singhal. "It's a chance to get to know faculty, bring up issues that students experience, and work on changing things that we think could be improved."
At the same time, Singhal uses atomistic simulations to model material properties, with an eye toward sustainability. She is a part of the Learning Matter Lab, a group that merges data science tools with engineering and physics-based simulation to better design and understand materials. As part of a computational group, Singhal has worked on a range of projects in collaboration with other labs that are looking to combine computing with other disciplines. Some of this work is sponsored by the MIT Climate and Sustainability Consortium, which facilitates connections across MIT labs and industry.
Joining the Learning Matter Lab was a step out of Singhal's comfort zone. She arrived at MIT from the University of California at Berkeley with a joint degree in materials science and bioengineering, as well as a degree in electrical engineering and computer science.
"I was generally interested in doing work on environment-related applications," says Singhal. "I was pretty hesitant at first to switch entirely to computation because it's a very different type of lifestyle of research than what I was doing before."
Singhal has taken the challenge in stride, contributing to projects including improving carbon capture molecules and developing new deconstructable, degradable plastics. Not only does Singhal have to understand the technical details of her own work, she also needs to understand the big picture and how to best wield the expertise of her collaborators.
"When I came in, I was very wide-eyed, thinking computation can do everything because I had never done it before," says Singhal. "It's that curve where you know a little bit about something, and you think it can do everything. And then as you learn more, you learn where it can and can't help us, where it can be valuable, and how to figure out in what part of a project it's useful."
Singhal applies a similarly critical lens when thinking about graduate school as a whole. She notes that access to information and resources is often the main factor determining who enters selective educational programs, and that such access becomes increasingly limited at the graduate level.
"I realized just how much applying is a function of knowing how to do it," says Singhal, who co-organized and volunteers with the DMSE Application Assistance Program. The program matches prospective applicants with current students to give feedback on their application materials and provide insight into what it's like attending MIT. Some of the first students Singhal mentored through the program are now also participants as well.
"The further you get in your educational career, the more you realize how much assistance you got along the way to get where you are," says Singhal. "That happens at every stage."
Looking toward the future, Singhal wants to continue to pursue research with a sustainability impact. She also wants to continue mentoring in some capacity but isn't in a rush to figure out exactly what that will look like.
"Grad school doesn't mean I have to do one thing. I can stay open to all the possibilities of what comes next."