MIT Medical
Does COVID-19 mean single-use everything?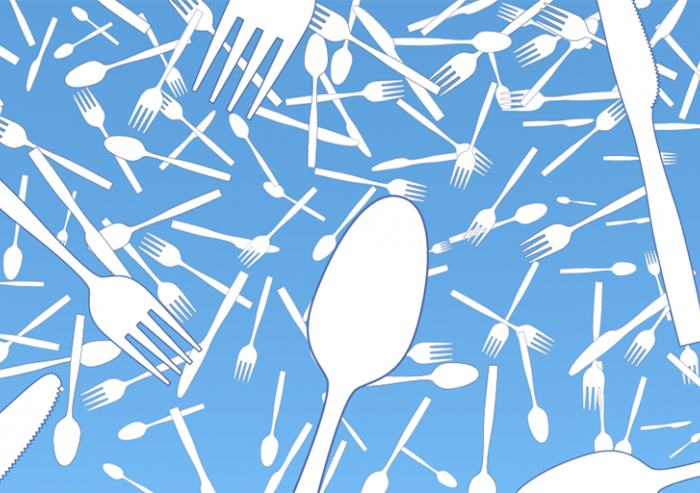 ---
MIT Medical answers your COVID-19 questions. Got a question about COVID-19? Send it to us at medical@mit.edu, and we'll do our best to provide an answer.
I'm an MIT staff member who is wondering what the future might hold for our efforts to reduce single-use plastics in the time of the COVID-19 pandemic. I've been seeing a lot of guidance that it's best to use single-use items in settings where food is served or consumed — places like cafes and even break rooms. I'm wondering if this is necessary and whether reusables, like my favorite coffee mug, can safely make a comeback any time soon.
Early in the pandemic, public health experts worried that reusable items could spread the virus from one individual to another through contaminated surfaces — a fear the plastics industry seemed happy to encourage. Dozens of state and local governments suspended or delayed regulations that banned or disincentivized single-use plastics. Then, as food-service establishments began to reopen, many public health agencies recommended or required the use of disposable items.
Unfortunately, this is a situation in which much of the public health guidance has lagged the science. We now know that SARS CoV-2, the virus that causes COVID-19, spreads primarily during close person-to-person contact, transmitted from one individual to another through large respiratory droplets expelled when people cough, sing, talk, or even breathe. While studies have shown that traces of the virus can persist on hard surfaces for a surprisingly long time, the half-life of the virus — the time required for half of the viral particles to die — is measured in a matter of hours, not days. And, according to the Centers for Disease Control and Prevention (CDC), there have been no documented cases of COVID-19 that can be attributed to contact with a contaminated surface. Nor is there evidence to support transmission of COVID-19 associated with food, so there no particular reason to use disposables in settings where food is consumed.
So is it time for your favorite coffee mug to make a triumphant return to the break room?
We'd say "yes." And we'd be in good company. In a "health expert statement" released at the end of June, more than 125 virologists, epidemiologists, and health experts from 18 different countries make a persuasive case that reusables are safe to use during the pandemic. The key, they say, is "basic hygiene." Disinfect surfaces, wash dishes and cutlery, and — you already know this — wash your hands, and don't touch your face.
There's no inherent reason to believe that a disposable plastic cup or utensil is less likely to be contaminated than its reusable counterpart, say these experts. Ironically, they point out, a study examining the persistence of the virus on various surfaces found that it remained infectious for the longest amount of time on plastic. When you think of it that way, your favorite mug might seem even more appealing. After all, it's your mug. You control it; you know who touches it; and you're responsible for keeping it clean.
The statement also alludes to the fact that single-use plastics cause additional public health concerns once they are discarded. And, as many have pointed out, these public health concerns are not felt equally. Waste-industry workers toil in closed, crowded spaces where COVID-19 outbreaks have already occurred. And when plastics and unrecyclable, single-use items end up in landfills or incinerators, the largest impact is on nearby communities, which are overwhelmingly low-income communities and/or communities of color, the very populations that are already being disproportionately affected by COVID-19.
If we've been constantly reminded of anything over the last several months, it's that our individual actions can have an outsized impact on our communities and world. While we must take every necessary precaution to limit the spread of the virus, we need to let the science be our guide. So, put down that foam cup and raise your favorite mug high! Fill the mug with whatever you like, but maybe skip the K-Cups.
This news story has not been updated since the date shown. Information contained in this story may be outdated. For current information about MIT Medical's services, please see relevant areas of the MIT Medical website.