MIT News Office
Civil discourse project to launch at MIT
Through a speaker series and activities in the Concourse learning community, the project's leaders aim to promote the value of open discussion on campus.<br />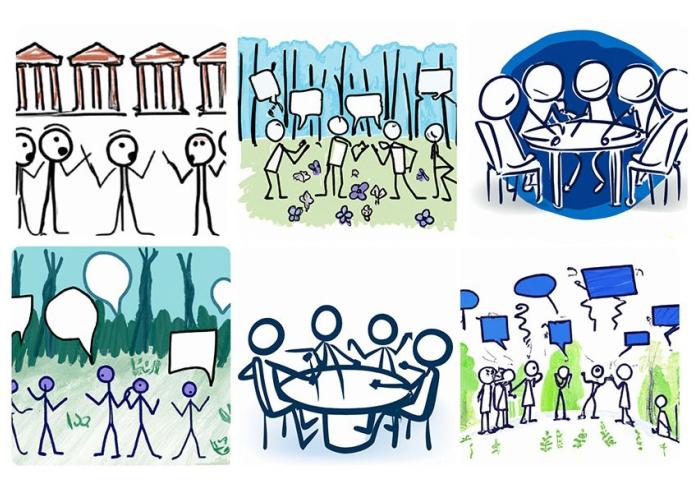 Image: Brad Skow/MIT via DALL-E
---
A new project on civil discourse aims to promote open and civil discussion of difficult topics on the MIT campus.
The project, which will launch this fall, includes a speaker series and curricular activities in MIT's Concourse program for first-year students. MIT philosophers Alex Byrne and Brad Skow from the Department of Linguistics and Philosophy lead the project, in close coordination with Anne McCants, professor of history and director of Concourse, and Linda Rabieh, a Concourse lecturer.
The Arthur Vining Davis Foundations provided a substantial grant to help fund the project. Promoting civil discourse on college campuses is an area of focus for AVDF — they sponsor related projects at many schools, including Duke University and Davidson College.
The first event in the speaker series is planned for the evening of Oct. 24, on the question of how we should respond to climate change. The two speakers are Professor Steven Koonin (New York University, ex-provost of Caltech, and an MIT alum) and MIT Professor Kerry Emanuel from the Department of Earth, Atmospheric, and Planetary Sciences. Eight such events are planned over two years. Each will feature speakers discussing difficult or controversial topics, and will aim to model civil debate and dialogue involving experts from inside and outside the MIT community.
Byrne and Skow said that the project is meant to counterbalance a growing unwillingness to listen to others or to tolerate the expression of certain ideas. But the goal, says Byrne, "is not to platform heterodox views for their own sake, or to needlessly provoke. Rather, we want to platform collegial, informed conversations on important matters about which there is reasonable disagreement."
Faculty at MIT voted last fall to adopt a statement on free expression, following a report written by an MIT working group. The project organizers want to build on that vote and the report. "The free expression statement says that discussion of controversial topics should not be prohibited or punished," Skow says, "but the longer working-group report goes farther, urging MIT to promote free expression. This project is an attempt to do that — to show that open discussion and open inquiry are valuable."
"It has the potential to generate lively, constructive, respectful discussion on campus and to show by example both that controversial views are not suppressed at MIT and that we learn by engaging with them openly," says Kieran Setiya, the head of MIT Philosophy. Agustín Rayo, dean of the School of Humanities and Social Sciences, thinks that the project can "play a critical role in demonstrating — to faculty, students, staff, alumni, and friends — the Institute's commitment to free speech and civil discourse."
Apart from climate change, topics for the first series of events include feminism and progress (Nov. 9, with Mary Harrington, author of "Feminism against Progress"), and Covid public health policy (Feb. 26, with Vinay Prasad, professor of epidemiology and biostatistics at the University of California at San Francisco). Organizers say they hope the speaker series becomes a permanent part of MIT's intellectual life after the grant period. To amplify the work to an audience beyond MIT, the project organizers have partnered with the Johns Hopkins University political scientist Yascha Mounk and his team at Persuasion to produce podcast episodes around the speaker events. They will air as special episodes of Mounk's podcast "The Good Fight."
The Concourse component of the project will take advantage of the small learning community setting to develop the tools and experience for productive disagreement.
"The core mission of Concourse depends on both the principle of free expression and the practice of civil discourse," says McCants, "making it a natural springboard for promoting both across the intellectual culture of MIT."
Concourse will experiment with, among other things, seminars discussing the history and practice of freedom of expression, roundtable discussions, and student-led debates. Braver Angels, an organization with the mission of reducing political polarization, is another partner, along with Persuasion.
"Our goal," says Rabieh, "is to facilitate, in collaboration with Braver Angels, the probing, intense, and often difficult conversations that lie at the heart of the Concourse program and that are the hallmark of education."