MIT's greenhouse gas inventory
Each year, MIT measures the greenhouse gas emissions associated with the operation of our campus to better understand our direct contribution to the heat-trapping gases in the atmosphere – the gases contributing to global climate change. This basis informs our carbon reduction strategies and allows for tracking progress over time.
In 2019, MIT continued to advance towards its goal of achieving a 32% reduction in campus emissions by 2030. Since 2014, MIT has reduced its emissions by a total of 18% towards this 32% goal, taking into account the purchase of solar power from Summit Farms.
Explore each year of MIT's GHG Inventory in detail via the tabbed pages above. Also check out the resource list below for presentations, data, and handouts as they become available.
Read the latest MIT News article on our progress here.
Learn about preliminary accounting for Scope 3 emissions here.
---
Overall emissions reduction progress since 2014
---
More about MIT's greenhouse gas inventory
The current inventory includes emissions associated with three primary sources: owned and leased buildings, specialty research and process gases, and campus vehicles. In October 2015, MIT set a goal to use the campus as a "test bed" for climate action, and develop solutions to reduce campus emissions by at least 32 percent by 2030 and aspire toward achieving carbon neutrality as soon as possible.
MIT has published its first Campus Greenhouse Gas Emissions Reduction Strategy, which lays out the pathways and strategies that will guide the MIT administration in meeting or surpassing MIT's greenhouse gas emission reduction goal.
MIT Greenhouse Gas Inventory Resources
The Role of Summit Farms Solar Power Purchase
Summit Farms Solar LLC is a solar photovoltaic facility in Currituck County North Carolina, operated by Dominion Energy. MIT has contracted through a long-term power purchase agreement for the purchase of 73% of the electricity produced. MIT has chosen to retire the renewable energy credits associated with the purchase.
---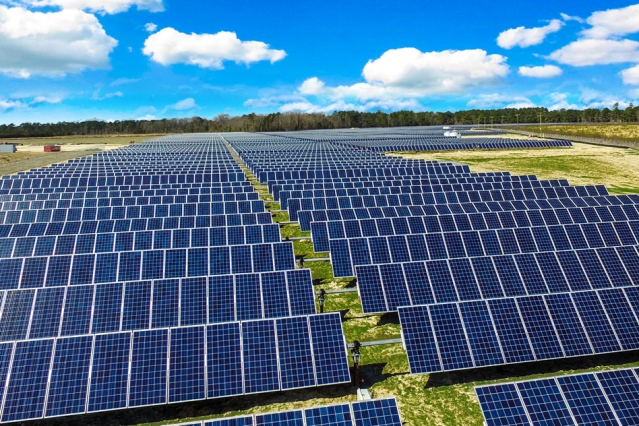 ---
The offsets produced by Summit Farms' clean, emissions-free power are clear and tangible. The solar facility displaces more carbon-intensive sources of energy, in a region where forty percent of its power is generated from coal. In addition to displacing power, the solar farm has helped to facilitate the early retirement of a large coal-fired plant nearby, by providing substitute power to make up for the coal plant's contractual peak-power delivery obligations. The owners of the coal plant are paying the purchasing partners (that include MIT) to provide substitute capacity as they come offline, making it economically feasible for the coal plant to retire ahead of schedule.
Subscribe to the MITOS Digest