Study Classroom Opportunities - Students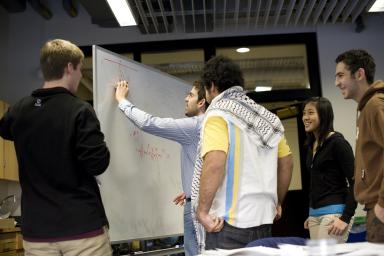 During the academic year MIT offers sustainability-related courses in numerous academic departments at both the undergraduate and graduate levels.
A comprehensive list of MIT's course offerings for the semester. Search using keywords "sustainable" or "sustainability."
The Environment & Sustainability Minor is an undergraduate minor offering interdisciplinary coursework and investigations into the real-world challenges facing people and the planet.
This minor is brand new for 2016-2017 and is unique because it combines principles and knowledge from across civil, environmental and systems engineering into a hyper-concentrated study focused on both the built and natural worlds.
The minor prepares graduates with subject-specific knowledge and an integrative understanding of energy issues. Students are offered hands-on subjects and opportunities to engage in the complex reality of energy.
This Minor makes the popular Traveling Research Environmental Experiences (TREX) fieldwork during the Independent Activities Period (IAP) a program requirement, because field research has proved essential to the CEE educational experience.
IAP is a special term at MIT that runs for most of January. It provides members of the MIT community with a unique opportunity to organize, sponsor and participate in a wide variety of activities, including how-to sessions, forums, athletic endeavors, lecture series, films, tours, recitals and contests.
Open to masters-level students as an add-on to Sloan's existing degree programs, the Certificate enables students to explore management practices that make more effective and sustainable use of natural and human resources, and advance human welfare.
The Sustainability Initiative at the Sloan School of Management also maintains a list of sustainability-related courses that are within Management (Course 15) and across other departments.
In this course offered to freshmen, the class is given an important, complex, real-world problem to solve as a group: their Mission. Throughout the fall semester, students work together on a plan for solving the problem, ultimately publishing their solution on a comprehensive website.
The core subjects of this minor apply principles of chemistry, biology, and engineering to issues of human health, and provide the student with an in-depth experience in one facet of a paradigm that relates human disease to exposure to chemicals and microorganisms.
The Transportation@MIT initiative knits together the Institute's wide-ranging, robust research related to transpiration and creates new opportunities for education and innovation. The initiative maintains a set of resources for those interested in research and education opportunities.