MIT Sustainable Office Self-Certification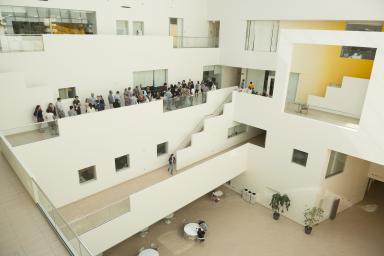 Why Sustainable Offices?
The MIT Sustainable Office Self-Certification Program is meant to drive a sustainable transformation in offices across the campus at MIT. The program is designed to empower staff, faculty, and student workers to take a leadership role in implementing strategies and practices that will make their office a healthy, resource-efficient, proactive steward of the Institute and our planet. Offices can achieve certification based on the score they receive on a checklist of sustainable criteria.
By implementing a sustainable office framework, the goals are to:
Transform the culture of MIT through active engagement and leadership on sustainability issues, aligning our office operations with the spirit of innovation and stewardship that MIT is known for.

Reduce negative environmental and health impacts associated with office operations, which can save money, boost productivity, and protect MIT and the planet from future harm.
---
Use the MIT Sustainable Office Self-Certification Tool to evaluate your office sustainability practices.
When you are done, you will see your final score and a customized plan identifying opportunities for improvement based on your responses.
Review the suggested actions and make improvements in your office.
When you're ready, revisit the MIT Sustainable Office Self-Certification Tool to update your certification level. You can achieve either a Bronze, Silver, or Gold level certification!